About Us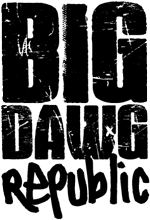 Big Dawg Republic is one of the biggest Online Shops for Hip Hop Clothing in Europe. Here, you can find that we are passionate about Hip Hop, Streetwear, Urban, Skate and Trendy assortment of fashion wear. We aim to bring you quality garments and accessories to complement your urban lifestyle without breaking the bank.
We bring the perfect combination between lifestyle and music. Hip Hop is not just a trend, it is a lifetime attitude. In order to create your own style, Big Dawg Republic provides you with very well known brands, Ecko, Rocawear, Zoo York and Time Is Money and also new upcoming brands Peviani, Nappy Boy and D-Rock just to mention a few.
Style emphasizes your authenticity. That's why Big Dawg Republic is always open for new influences and styles. With the priority to sell hip and quality products at extremely low prices. We also provide fresh Urban and Skatewear, so that you can highlight your Dawgness with your style.
We only offer original products, which we receive directly from the distributors. Carefully selecting every garment that we sell, working exclusively with brands that possess great vision and flair for Streetwear styles.
We've been distributing urban Streetwear clothing both nationally and internationally for a number of years, so we really know our stuff. Shop online 24/7 for the very latest, original, genuine urban fashion garments and accessories.
We offer you a reliable Hip Hop Online Shop, whereby you can live your lifestyle. Be fresh, be cool, be The Big Dawg!
Here, at Big Dawg Republic, we work on satisfying your styles and needs. Whether our models, photographers, customer services, order processing, distribution or our management board, everyone is trying to do their best, to provide you a great service and reach the ultimate customer satisfaction. For any questions, wishes or problems or even suggestions, you are more than welcome to contact us at Customer Services. We put a big value on optimizing our Online Shop constantly.

Other Information

Big Dawg Republic is part of Hip Hop Republic Limited, Solar House, Alpine Way, London, E6 6LA. We are registered with Companies House, our registration number is 06785417. Our VAT registration number, GB175825184.
PRICES & SHIPPING COSTS
All prices include VAT where applicable. Mainland UK postage is FREE. International postage prices start from £9.99.
DELIVERY TIME
UK mainland orders are usually delivered within 1 to 3 business days. International orders are usually delivered within 5 to 10 days.
PAYMENT METHODS